Coil Cords for Wrist Straps
From: $3.64
• Static Dissipative Polyurethane (PU) with 1 Meg Ohm Resistor built into it.
• 4mm Socket Snap on end of cord for connecting to Wrist Strap, and plug for a banana jack on opposite end to plug cord into Grounding.
• Optional Alligator Clip included to slide over plug for banana jack to clamp cord directly to a railing.
Prices
| Size | Qty 1-9 | Qty 10-99 | Qty 100+ |
| --- | --- | --- | --- |
| 6' Coil Cord | $3.64 | $3.37 | $3.14 |
| 12' Coil Cord | $4.80 | $4.44 | $4.14 |
Specs
| Dimension | Quality |
| --- | --- |
| Length | 6 foot and 12 foot options |
| Material | Polished Polyurethane Coil Insulation |
| Snap Type | 4mm Socket Snap |
| Plug Type | Swivel Type Plug with 6 leaves for Banana Jack |
| Plug Alternative | Alligator Clip slides over Plug for Banana Jack |
| Resistor | 1 Meg Ohm Resistor Built Inside |
| Diameter | 2.5mm |
| Flex Life | 50,000 Flexes |
Coil Cord
On the outside, the cord is made of polished polyurethane (PU) that is static dissipative.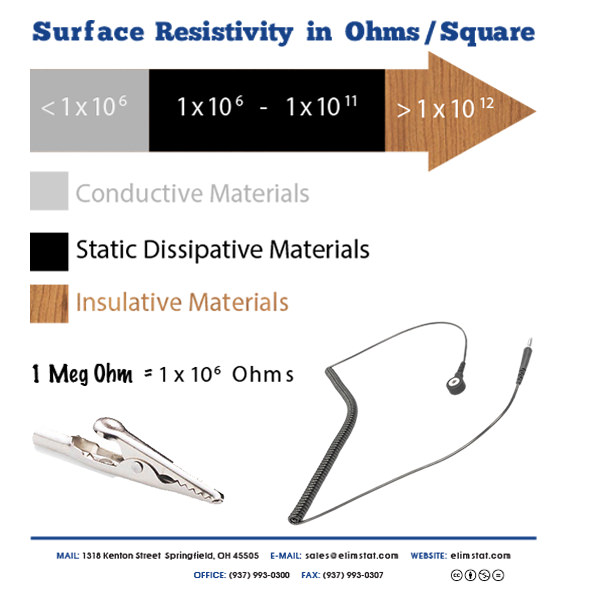 On the inside, the encapsulated 1 meg ohm resistor ensures that electrons are transferred through the cord to ground at a static dissipative rate.
Static electrons collected off your body by the wrist strap are transferred to ground by attaching the coil cord to grounding:
a wrist strap ground, or a common point ground.
Alternatively, you can clip the coil cord to a metal railing with the included alligator clip (which slides over the plug).
1 Meg Ohm Resistor
1 Meg Ohm = 1 x 106 Ohms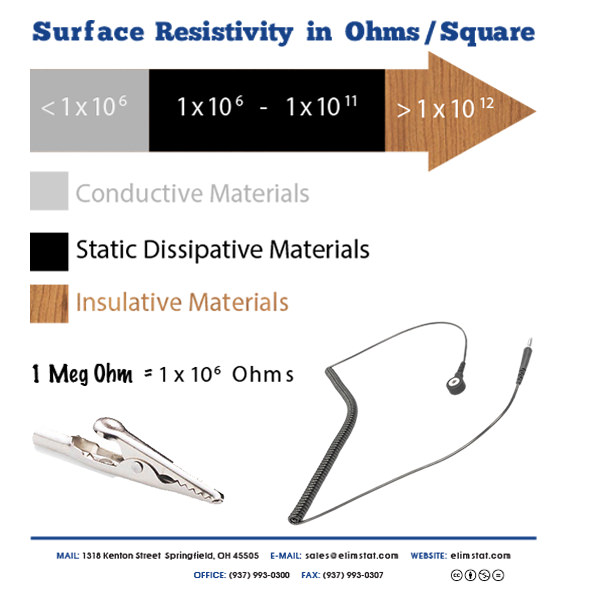 A 1 Meg Ohm Resistor is built into the coil cord to slow down an electrostatic discharge event (ESD) from a highly charged ungrounded surface from discharging instantaneously through the coil cord.
Typically a 1 Meg Ohm Resistor slows down an electrostatic discharge (ESD) a few more milliseconds than if it were not present.
Connect Grounding to Wrist Straps
Electrical outlets are normally the best ground for a wrist strap in any building. This is because the wiring of outlets typically follows the piping of the building to earth underneath the building.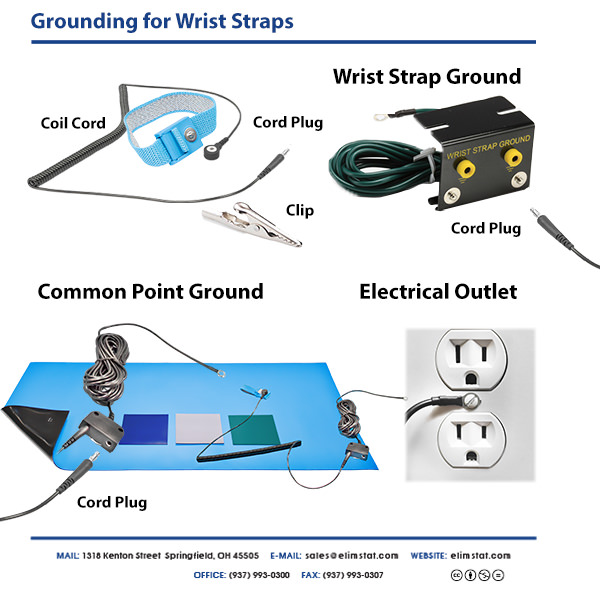 The coil cord ends in a plug that can be connected to a banana jack present on a variety of grounds: a wrist strap ground (which grounds the wrist strap separate from anything else), a common point ground (which grounds both an ESD mat and a wrist strap), or a continuous monitor (which issues audible alarms when not grounded).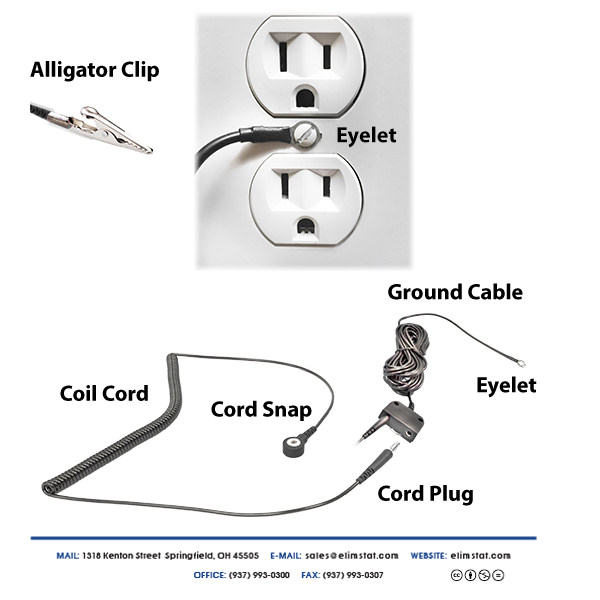 Ground cables end in an "eyelet". This eyelet is a metal ring that you can screw into the nearest electrical outlet to transfer static from the ground to the electrical outlet.
If you cannot reach an electrical outlet the next best thing to do is to use the "alligator clip" that comes with the wrist strap. Slide the clip over the cord's plug so that it can be clipped to a railing that leads to your floor below.