ESD Field Service Kits
$39.83
7 in stock
Portable ESD Field Service Kits include a 2′ x 2′ mat with two pockets, a Wrist Strap with 6 foot coil cord, and a Common Point Ground with a 15 foot connecting cable that ends in a bulldog clip for clamping the wrist strap to a local free standing ground.
Prices
| Qty 1-9 | 10+ |
| --- | --- |
| $39.83 USD | $36.51 USD |
Specs
Dimension
Specification
Weight
12.6 oz
Thickness
.018 inches
Size
24 inches x 24 inches
Tensile Strength
220 psi
Tear Strength
6 lbf/in
Burst Strength
350 PSI
Pockets
2
Snaps
Two 10mm snaps
Color
Blue
Surface Resistivity
Greater than 1.0 x 106 ohms,
less than 1.0 x 109 ohms
Static Decay
0.01 seconds
Grounding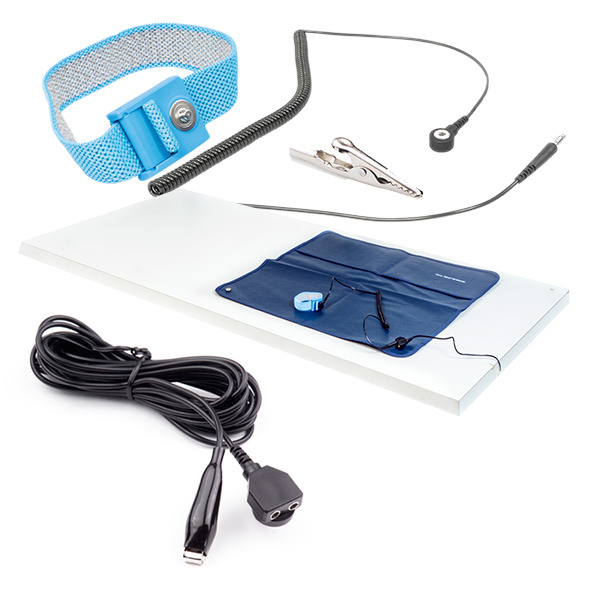 Elimstat Field Service Mat Kits include
(1) a 2′ x 2′ foot three ply static dissipative anti static mat with 2 pockets to prevent electrostatic discharges (ESD) from occurring on the work surface;
(2) a 240 Series wrist strap with banana plug end coil cord (with optional alligator clip for connecting it directly to an electrical ground); and
(3) a 4717 series common point ground for electrically grounding the mat [work surface] and wrist strap [personnel]. Attach the 4717 Series to ground by using the bulldog clip end of the common point to securely connect it to an electrical ground.