Common Point Ground
$7.90
50 in stock
• Socket on bottom fits with snaps for mats.
• Flat Profile has two banana jack sockets to plug coil cords into.
• 15 Foot Grounding Cable ends in an eyelet to screw Common Point Ground directly into the ground line in an electrical outlet.
Prices
| Qty 1-9 | Qty 10-99 | Qty 100+ |
| --- | --- | --- |
| $7.90 | $7.31 USD | $6.81 USD |
Specs
Dimension
Specification
Profile
Flat Profile with Two Receptacles for Banana Jacks
Grounding Cable Length
15 Feet
Grounding Cable Insulation
Polyurethane / PVC
Ground Cable Terminal
Ends in #10 Ring Type to Screw into Electrical Outlet
Ground Cable Surface Resistivity
Static Dissipative
Resistor
1 Meg Ohm
Snaps Into
10mm Snap Installed on Mat
(Link Opens New Window)
Physical Dimensions
Width Across: 1 1/2 inches
Depth: 1 inch
Height: 1/2 inch
Installing Common Point Grounds onto Anti Static Mats
Common Point Grounds come with a 10mm diameter socket built into the bottom to plug into a 10mm diameter snap installed on an anti static mat.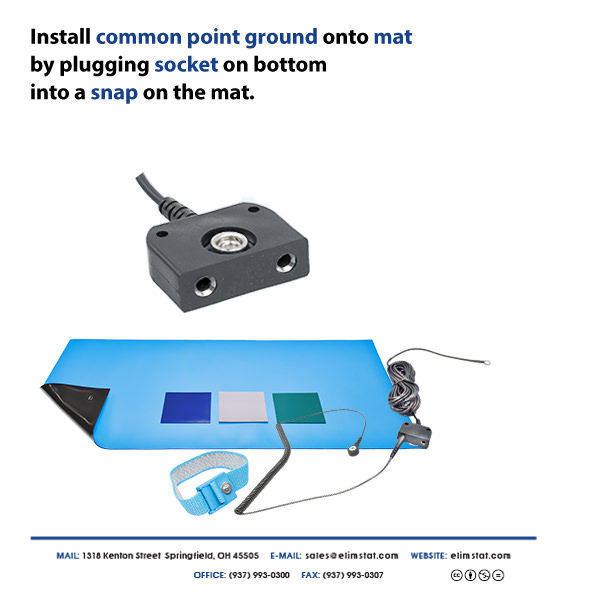 After the 4715 Series is connected to an anti static mat connect an ESD Wrist Strap to the Common Point Ground.
There are two sockets (banana jack receptacles) for two wrist straps to be connected.
Connect Common Point Grounds to Electrical Outlets
Electrical outlets typically are the best ground in any building because they follow the piping to the Earth's electrical field underneath the building.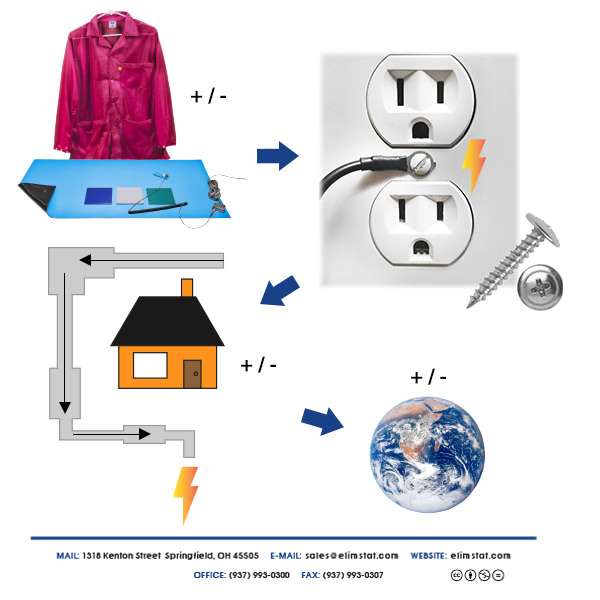 To connect the common point to an electrical outlet screw the #10 Ring Terminal on the end of the cable into an electrical outlet. (The #10 Ring Terminal fits a standard US electrical outlet).
It's recommended you have grounding attached for every 5 feet of mat.
* Mats should not be "daisy-chained" together.
Common Point Grounds are Static Dissipative
Made of polished polyurethane (PU) the cord insulation itself is static dissipative.
1 Meg Ohm = 1 x 106 Ohms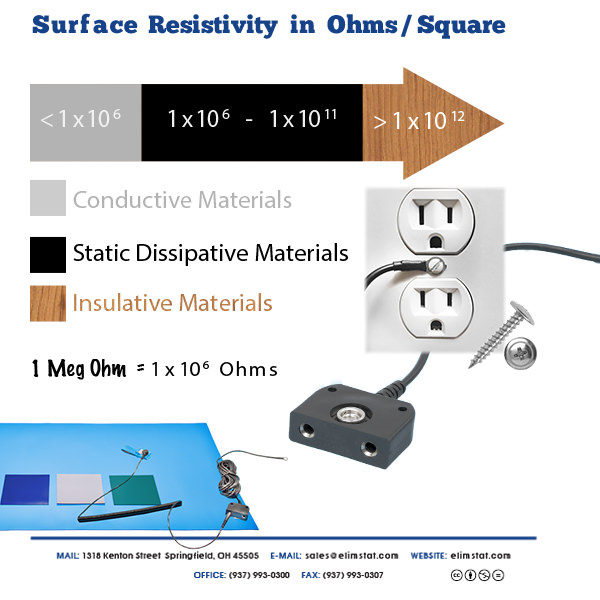 A 1 Meg Ohm Resistor is built inside the cord to slow down an electrostatic discharge event (ESD) from a highly charged ungrounded surface from discharging instantaneously through the cord.
Typically a 1 Meg Ohm Resistor slows down an electrostatic discharge (ESD) a few more milliseconds than if it were not present.