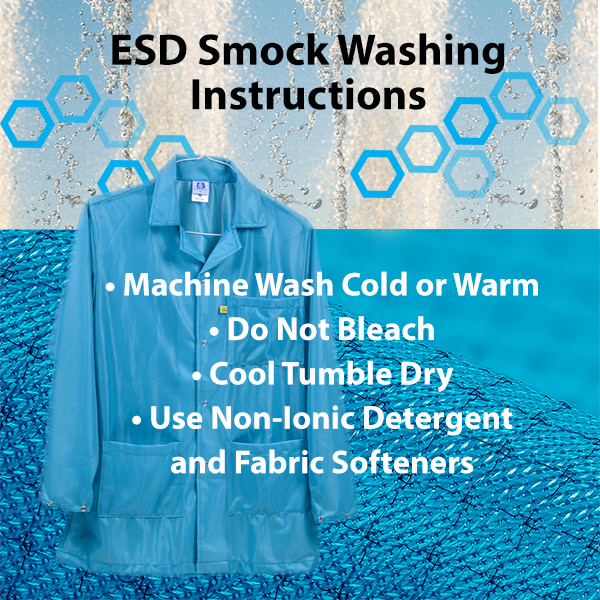 A: Machine Wash Cold or Warm. Do Not Bleach. Cool Tumble Dry or Hang. Remove Promptly. Use only Non-Ionic Detergents.
1. Detergents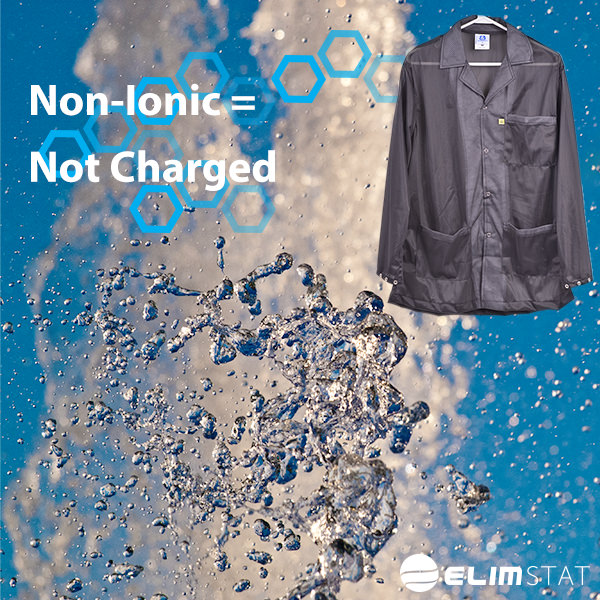 Detergents contain enzymes, bleaches, surfactants, and builders.
The surfactants found in many detergents include anionic (negatively charged) alkalis that interact with water to remove oily dirt and stains.
However, these can strip ESD Garments of their positive ions, predisposing them to carry negative charges. This is why it is recommended not to use detergents when washing ESD Garments.
However, if you need to use detergents or fabric softeners, you should use liquid detergents that would be used on silk or wool since these do not contain alkalis. These are sometimes referred to as non-ionic detergents.
Non-ionic detergents have a neutral pH (neither acidic nor alkaline) and produce electrically neutral particles when added to water.
2. Chlorine Bleach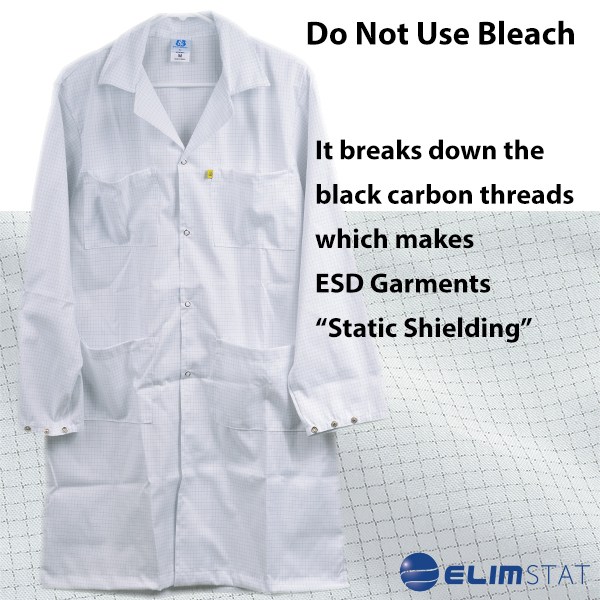 Built in a grid pattern, the black carbon threading woven into ESD garments shields nearby electronics from static on your clothes and skin underneath. This threading is what gives ESD clothing its conductivity and what makes your ESD garment "static shielding."
Chlorine bleach attacks carbon bonds, destroying this black carbon threading.
Non-chlorine bleaches are those used in "color-safe" commercial bleaches that are activated by contact with oxygen in the water. These are oxidizing bleaches: hydrogen peroxide, sodium percarbonate, and sodium perborate. While not as destructive to the carbon threading as chlorine bleach, they are alkalines that can remove carbon with repeated use.
3. Drying
The cotton and polyester threading in ESD clothing can become warped at high temperatures. This is why it is recommended to hang dry when possible. If not, tumble dry low in a dryer.
Conclusion
Whenever you clean an ESD smock in a washing machine, you are degrading its quality. Most ANSI / ESD S20.20 certified smocks can be washed only 90 – 100 times using non-ionic detergents before buying a new one.
Further Reading
"The Chemistry of Stain Removal", Compound Interest, Accessed 01/16/2018
"Understanding Detergent, Soap, Fabric Softer & Bleach", The Laundress, Accessed 01/16/2018